Seems to me that people can't get enough of the "accent wall." Below are some guidelines to help you achieve the right look.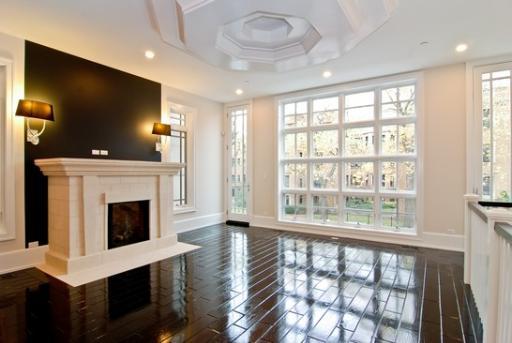 Think to yourself, why do you want an accent wall? Will it improve your room in any way? I'm certainly not against accent walls, I just think they have to be done right. Above is a beautiful example of how a homeowner chose a daring color (black) and it payed off. So DO BE BOLD!
Now another important question to ask yourself is - What wall should I accent? Also, why? The whole point of an accent wall is to draw attention to that wall, make sure your design makes sense! The photo above is a wonderful example of how a homeowner used natural materials to create a chevron pattern on their entertainment wall. This accent wall creates a warm feeling in an otherwise sparse/modern setting. DO USE NATURAL MATERIALS FOR WARMTH.
Most times the reason homeowners paint an accent wall is because they want to bring in a pop of color into a space. The photo above is an excellent example of showing off a home's architecture. The contrast of the bright orange/red with the white walls work perfectly with the exposed staircase from the second floor. DO SHOW OFF YOUR ROOM"S ARCHITECTURE.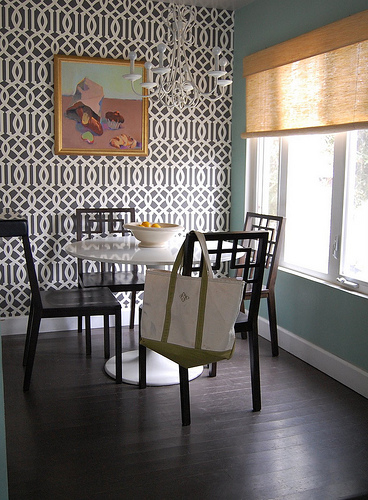 If you have some extra time on your hands, think about stenciling. Stenciling can be time consuming, but it is inexpensive and can make a huge impact. Click on this
LINK
for some stenciling advise. The trellis stencil design above gives an otherwise bare room some pattern. DO ADD PATTERN AND TEXTURE.
If you want to splurge, think about using wallpaper (wall covering.) Wallpaper can be a little pricey at times, but if you are only covering an accent wall, you might want to consider it. The photo above shows a metallic paper, here the accent wall is anchored by a bed. There is a reason to have it, it makes sense. DO USE METALLIC WALLPAPER TO BRING IN SOME BLING.
Do you have any other dos or don'ts when making an accent wall? Post a comment below!